The NFL Draft is nearly a month away. With most of the big-name free agents off the market, we now have a better idea of where players will fall. Obviously, it's almost easier to hit the lottery than getting a perfect mock. Also, adding in a couple trades to make things a little spicier. There is a table at the bottom of the mock that translates each selection to each team for easier view. Enjoy!
MOCK TRADES:
MIA sends 1.05, 1.26, 5.126 to DET for 1.03
CLE sends 1.1, 3.74 to CAR for 1.07
MIN sends 1.22, 2.58, 7.249 to TB for 1.14
ROUND 1
1. CIN- Joe Burrow, QB, LSU
Josh Auzenne/WAFB-TV
Transitioning from Andy Dalton to Joe Burrow will not only rejuvenate AJ Green and John Ross, but the entire Bengal's team. Pairing Burrow with young head coach Zac Taylor will be something to keep an eye on heading into the 2020 season. With 2019 first round pick Jonah Williams returning, Cincy's offense is something to keep an eye on.
2. WSH- Chase Young, EDGE, Ohio State
With Washington trading for Kyle Allen, it is almost fact that they will not be taking a QB at #2. The only other thing that can happen is the Chargers or Dolphins can trade up above Detroit to take Tua, but that seems less likely than Washington taking Chase here. An elite pass rusher to put across of 2019 first round pick Montez Sweat will give an immediate boost to Washington's front.
3. MIA (via DET) – Tua Tagovailoa, QB, Alabama
A bidding war between Miami and LA can and will be won by Miami due to their amount of draft capital. I do believe that it is in which ever team that drafts Tua to sit on him for a year, be 100% sure that he is healthy, and come into the 2021 season prepared. Both LA and MIA are capable of this, with Miami sitting on Fitzpatrick/Rosen and LA with Tyrod Taylor. In this case, I see Fitzpatrick starting most of the season, and seeing Rosen appear later in the year to see exactly what he is worth for Miami to ship him off to gain picks in the following year's drafts. Tua has superstar traits, it just comes down to providing him weapons and protection.
4. NYG – Tristan Wirfs, OT, Iowa
The Giants will have the first choice at the top offensive line prospects. Wirfs provides versatility, with his ability to play guard and tackle. Scouts believe he will be best playing at guard, but I would like to see him at RT. With a generational running back heading into year 3 in Saquon Barkley, and a young QB in Daniel Jones, investing in a solid piece in Wirfs will be beneficial for all of the weapons the Giants have on offense.
5. DET (via MIA) – Isaiah Simmons, LB/S, Clemson
This pick comes down to Simmons or Okudah and the Lions are going with Simmons. With the Lions signing Trufant, that allows them to invest in a playmaker. Trading Slay hurts the secondary, but I believe that Oruwariye is going to take a big step in becoming the Lions CB2. Jarad Davis is not capable of being a starter for the Lions any longer, and with the release of Devon Kennard, the LB group in Detroit needs a boost. Simmons provides versatility that is needed with the amount of times Patricia drops his linebackers into coverage.
6. LAC – Justin Herbert, QB, Oregon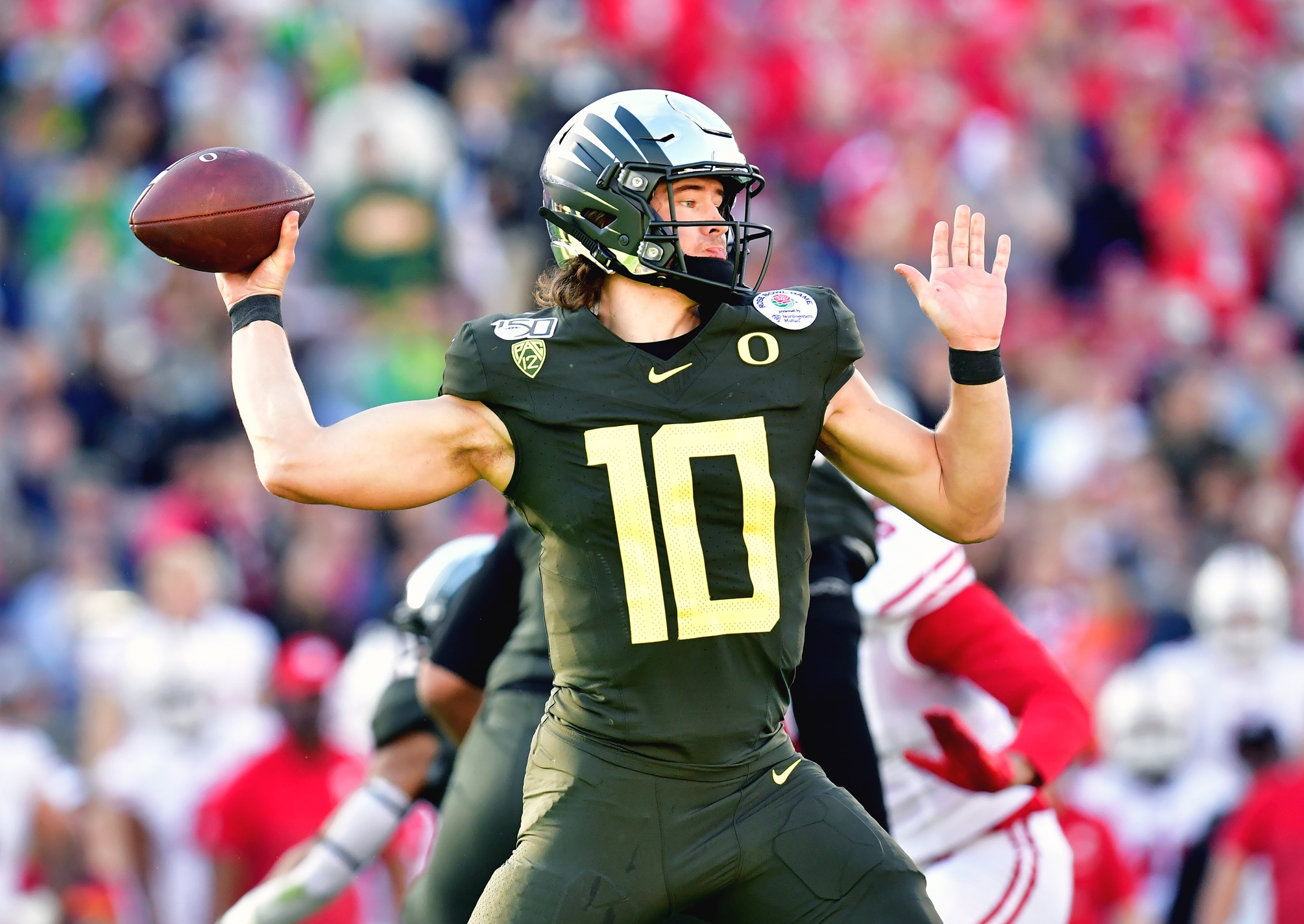 Justin Herbert could be playing for the Arizona Cardinals right now, however, with him staying in school, it hurt his draft stock. I was wrong about Josh Allen coming out of college because I was worried about his accuracy. Similarly, I worry about Herbert's accuracy. Scouting reports suggest that he is "deadly accurate" and I don't see it. However, Herbert has the arm and the physical traits that you want in a QB. Putting him in LA to sit behind Tyrod will allow him to learn the offense, and eventually take over for the Chargers.
7. CLE – Andrew Thomas, OT, Georgia
The Giants selecting Wirfs puts pressure on Cleveland to move up and grab the next tackle. Cleveland had great signings in free agency, now getting an anchor at LT will provide the much needed protection for Baker Mayfield. All of the hype last season for the Cleveland offense disappointed fans, however, look for a positive bounce back year as the Browns get a full year with Kareem Hunt, as well with the pairing of Austin Hooper and David Njoku.
8. ARZ – Jedrick Wills, OT, Alabama
Over the past few months, we have watched Wills fly up draft boards. Wills is a polished blocker, being a two year starter at Alabama. At 6'5, 320lbs, Wills is capable of being one of the top tackles in the league for years to come. With the Cardinals robbing Houston of DeAndre Hopkins, giving Kyler Murray protection is a must and Wills here seems to be a no brainer.
9. JAX – Derrick Brown, DT, Auburn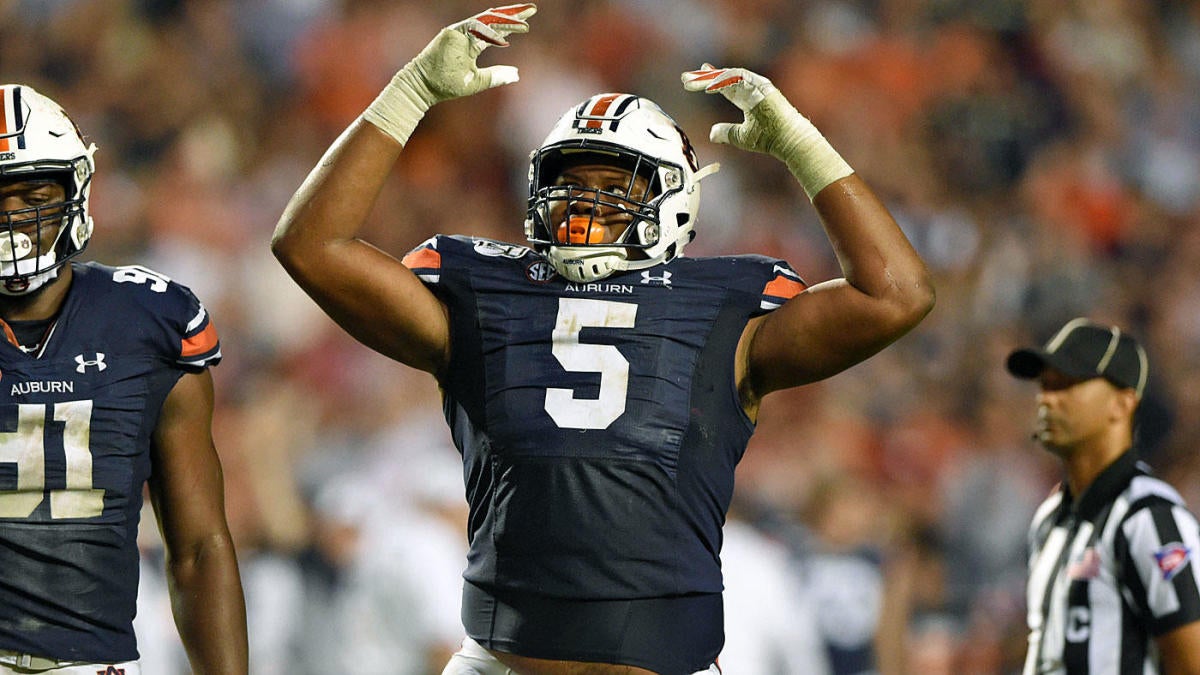 Derrick Brown is a name that will be known by many next season. He is one of the most complete DT coming into the draft that I have witnessed in recent memory. Brown has incredible strength that allows him to fight off blocks. His run stuffing ability appears to be elite. With Jacksonville sending off Campbell, a boost to their defensive line is needed. Getting Brown here at 9 is fantastic value.
10. CAR – Javon Kinlaw, DT, South Carolina
With Carolina signing Bridgewater, they eliminate themselves with moving up to take Tua or Herbert. In this case, they are able to pick up an extra pick by moving down and still getting an absolute beast. Kinlaw has been relatively flying under the radar, which shocks me because of his talent. Kinlaw provides a pass rushing ability that is superior to that of Derrick Brown's. That said, I would not be surprised to see Jacksonville grab Kinlaw and Brown to fall here to Carolina.
11. NYJ- Mekhi Becton, OT, Louisville
12. LV – CeeDee Lamb, WR, Oklahoma
13. SF (via IND) – Jeffery Okudah, CB, Ohio State
Okudah dropping all the way to 13 seems insane. Remember Greedy Williams being a solidified top 10 pick early last year? Okudah is definitely a better prospect and, in my opinion, a better player, so he will not drop far. Pairing Okudah with Sherman, while also reuniting with Nick Bosa, seems unfair. This SF defense only gets better.
14. MIN (via TB) – Jerry Jeudy, WR, Alabama
15. DEN – Henry Ruggs III, WR, Alabama
16. ATL – AJ Epenesa, EDGE, Iowa
17. DAL – CJ Henderson, CB, Florida
18. MIA (via PIT) – K'Lavon Chassion, EDGE, LSU
19. LV (via CHI) – Kristian Fulton, CB, LSU
20. JAX (via LAR) – Jeff Gladney, CB, TCU
21. PHI – Tee Higgins, WR, Clemson
22. TB (via MIN, BUF) – Josh Jones, OT, Houston
23. NE – Yetur Gross-Matos, EDGE, Penn State
24. NO – Patrick Queen, LB, LSU
25. MIN – Zach Baun, EDGE, Wisconsin
26. DET (via MIA, HOU) – Ross Blacklock, DT, TCU
27. SEA – Curtis Weaver, EDGE, Boise State
28. BAL – Laviska Shenault, WR, Colorado
29. TEN – Neville Gallimore, DT, Oklahoma
30. GB – Justin Jefferson, WR, LSU
31. SF – Denzel Mims, WR, Baylor
32. KC – Kenneth Murray, LB, Oklahoma
ROUND 2
33. CIN – Terrell Lewis, EDGE, Alabama
34. IND – Jordan Love, QB, Utah State
35. DET – Cesar Ruiz, OG, Michigan
36. NYG – Bradlee Anae, EDGE, Utah
37. LAC – Austin Jackson, OT, USC
38. CAR – Trevon Diggs, CB, Alabama
39. MIA – Lucas Niang, OT, TCU
40. HOU – Lloyd Cushenberry III, OG, LSU
41. CLE – Grant Delpit, S, LSU
42. JAX – AJ Terrell, CB, Clemson
43. CHI – Xavier McKinney, S, Alabama
44. IND – DeAndre Swift, RB, Georgia
45. TB – Jonathan Taylor, RB, Wisconsin
46. DEN – Noah Igbinoghene, CB, Auburn
47. ATL – Justin Madubuike, DT, Texas A&M
48. NYJ – Jalen Raegor, WR, TCU
49. PIT – Ben Bartch, OT, St. John's
50. CHI – Jonah Jackson, OG, Ohio State
51. DAL – Matt Hennessy, OG, Temple
52. LAR – Joshua Uche, EDGE, Michigan
53. PHI – Julian Okwara, EDGE, Notre Dame
54. BUF- Jaylon Johnson, CB, Utah
55. BAL – Jordyn Brooks, LB, Texas Tech
56. MIA – J.K Dobbins, RB, Ohio State
57. HOU – Raekwon Davis, DT, Alabama
58. TB – Robert Hunt, OG, Louisiana
59. SEA – Cam Akers, RB, Florida State
60. BAL – Ezra Cleveland, OT, Boise State
61. TEN – Jonathan Greenard, EDGE, Florida
62. GB – Cameron Dantzler, CB, Mississippi State
63. KC – Damon Arnette, CB, Ohio State
64. SEA – Isaiah Wilson, OT, Georgia
Picks By Team
| | | | | |
| --- | --- | --- | --- | --- |
| ARZ | Wills, OT | | | |
| ATL | Epenesa, EDGE | Madubuike, DT | | |
| BAL | Shenault, WR | Brooks, LB | Cleveland, OT | |
| BUF | Johnson, CB | | | |
| CAR | Brown, DT | Diggs, CB | | |
| CHI | McKinney, S | Jackson,OG | | |
| CIN | Burrow, QB | Lewis, EDGE | | |
| CLE | Thomas, OT | Delpit, S | | |
| DAL | Henderson, CB | | | |
| DEN | Ruggs III, WR | Hennessy, OG | | |
| DET | Simmons, LB | Blacklock, DT | Ruiz, OG | |
| GB | Jefferson, WR | Dantzler, CB | | |
| HOU | Cushenberry, OG | Davis, DT | | |
| IND | Love, QB | Swift, RB | | |
| JAX | Kinlaw, DT | Gladney, CB | Terrell, CB | |
| KC | Murray, LB | Arnette, CB | | |
| LV | Lamb, WR | Fulton, CB | | |
| LAC | Herbert, QB | Jackson, OT | | |
| LAR | Uche, EDGE | | | |
| MIA | Tagovailoa, QB | Chassion, EDGE | Niang, OT | Dobbins, RB |
| MIN | Jeudy, WR | Baun, EDGE | | |
| NE | Gross-Matos, EDGE | | | |
| NO | Queen, LB | | | |
| NYG | Wirfs, OT | Anae, EDGE | | |
| NYJ | Bechton, OT | Raegor, WR | | |
| PHI | Higgins, WR | Okwara, EDGE | | |
| PIT | Bartch, OT | | | |
| SF | Okudah, CB | Mims, WR | | |
| SEA | Weaver, EDGE | Igbinoghene, CB | Akers, RB | Wilson, OT |
| TB | Jones, OT | Taylor, RB | Hunt, OG | |
| TEN | Gallimore, DT | Greenard, EDGE | | |
| WSH | Young, EDGE | | | |