I want to start by explaining what dynasty fantasy football is and how it will change your life. If you're just now finding out about dynasty, then welcome. If you are a veteran, then feel free to skip past this section. Dynasty fantasy football is a league that works the same as regular fantasy football, except that you keep your team every year. You begin with one draft to fill your roster. After the first year, instead of re-drafting, you instead have a rookie draft (only rookies or rookies/free-agents). During the year, you can trade your future rookie picks for players (Team A trades 2021 1st round to Team B for Kenyan Drake). The draft order works similarly to the NFL where the worst team gets the first pick, and the champion gets the last pick. Deciding whether to commit to that year's championship or letting go and trying to grab a top 4/5 pick in the draft is what makes or breaks teams. For example, last year I traded away my 1st and 2nd round picks for Allen Robinson and Mark Andrews to push towards the championship late in the season. I was knocked out in the first round of the playoffs and would have had the fifth pick in the draft and would have gotten one of the top 4 RB's coming out. Things like that need to be considered. Very general description, if any more clarification is wanted, I would be happy to explain.
Obviously, go get Taylor, CEH, Dobbins, Swift, Jeudy, and Lamb. Those guys are going to be the closest to sure-fire assets for dynasty teams. However, guys that will slip out of the first and get into the later rounds is what this is geared towards. Let's get into it.
---
Michael Pittman Jr., WR, Indianapolis Colts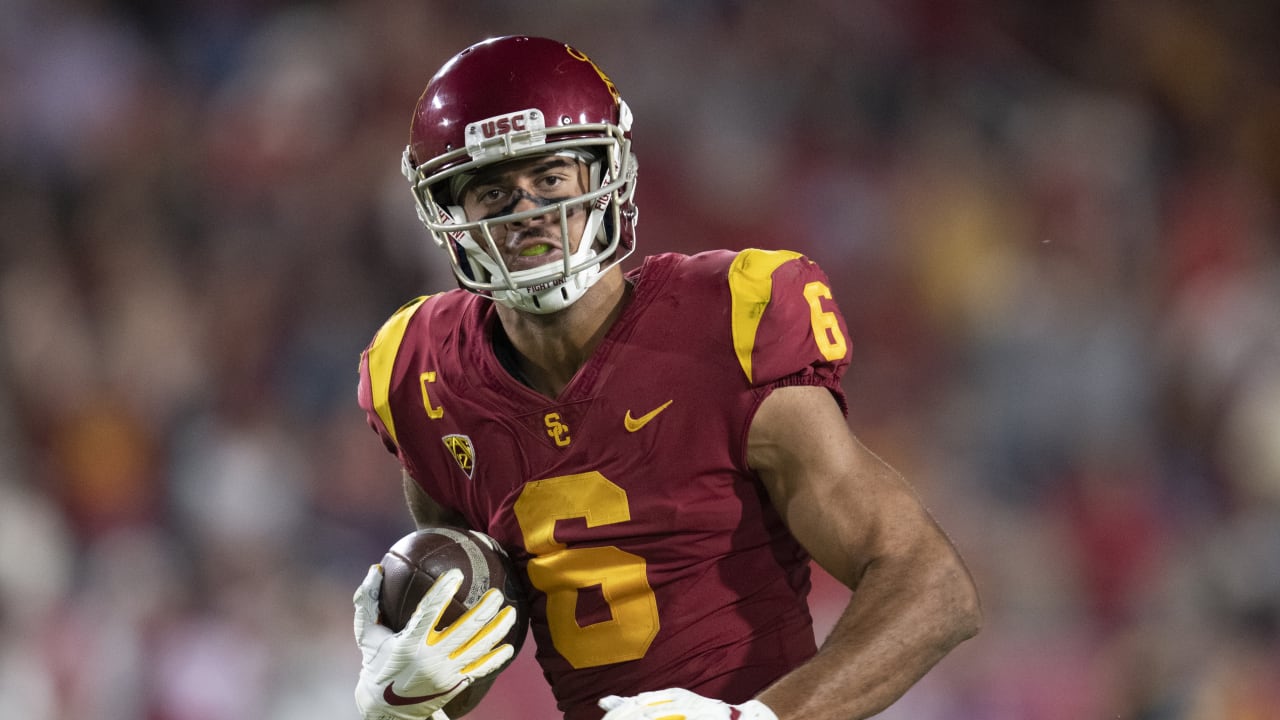 AP Photo/Kyusung Gong
The 34th pick in this year's draft is not the most talented receiver in the class, but landed in one of the best situations any could have. Michael Pittman joins a Colts team that acquired QB Phillip Rivers after speculation of who will take the helm since the surprising retirement from Andrew Luck. Pittman led the Pac-12 in both receptions (101) and yards (1275) in 2019, while leading USC in yards in 2018 and 2019. With his 6'4, 223lb frame, Pittman had a staggering 18.5 yards per reception in 2018.
All that said, Pittman is setup to takeover at WR1 in the coming years for the Colts. TY Hilton is entering his 9th season, coming off back to back limited seasons in both 2018 and 2019 due to injuries. At 30 years old, Chris Ballard locked up a guy who would have went in the first in almost any other draft class. Overall, the Colts offense may surprise teams the next few years after creating a foundation behind Pittman, Taylor, and Nelson. Also not forgetting Paris Campbell, who was drafted last year. What I worry about is Indy's QB situation. Regardless, whoever is brought in to take over for Phillip Rivers, Ballard has done a great job in providing weapons. Pittman is a long-term receiver that fantasy owners should lock up in their rookie drafts early.
Antonio Gibson, RB, Washington Redskins
 Joe Rondone/The Commercial Appeal
Antonio Gibson has a chance to be an incredibly valuable asset to Dwayne Haskins and the Redskins. Gibson is listed as a RB, but doesn't have the experience you would expect. In 2019, Gibson had 33 carries for 369 yards and 4 touchdowns. With limited carries, I still like what I see. Regardless, what makes Gibson so valuable is his versatility. To go along with his rushing stats, Gibson had 38 receptions for 735 yards and 8 touchdowns. Further, he had 23 kickoff returns for 645 yards and 1 touchdown. Gibson is a complete, do-it-all player that can push for a large role in the Redskins offense.
His situation also provides upside. Derrius Guice currently has the starting RB job, however, injuries are a concern after appearing in only 5 games in the last two seasons. That and having 35 year old Adrian Peterson as his backup makes the Washington's runningback room all that more shaky. In saying that, I'm not forgetting about JD McKissic or Bryce Love. I see Gibson still as their RB3 because of McKissic being more of a utility player and not seeing Love being a vital option coming off an ACL tear in his last game at Stanford which has required surgery in both 2018 and 2019. Overall, I would expect to see Gibson get some limited but early action in 2019. If Guice goes down, Gibson has an opportunity to take over duties as their RB1.
Antonio Gandy-Golden, WR, Washington Redskins
Butch Dill/AP
Joining Gibson is the WR out of Liberty that has generated an abundance of hype by those who know who he is. Antonio Gandy-Golden (AGG) is a 6'4, 220lb monster on the outside. His stats in 2018 and 2019 are almost identical. In 2018, he had 71 receptions for 1,037 yards and 10 touchdowns. In 2019, he had 79 receptions for 1,396 yards and 10 touchdowns. The production is there, however, the competition disparity compared to the likes of guys coming out of the SEC or Big-12 is evident. It's not that much of a worry to me that he hasn't played in the best conferences. AGG has the talent and the tools to be a contributing asset to the Redskins.
The Washington offense is going through almost a complete rebuild. Dwayne Haskins was drafted in 2019 as their new QB. Derrius Guice was drafted in 2018, but took his first snap at RB for the Redskins in 2019. Terry McLaurin broke out in his rookie season last year appearing to be their future WR1. The WR2 spot is still wide open. Steven Sims is the assumed guy for the spot currently, who is entering his second season as an UDFA. Kelvin Harmon is also a guy in his second year that is in the running. A lot of shifting and sorting is needed to take place for there to become a solidified WR2. In my opinion, I would imagine Harmon steps up into the WR2 role and AGG steps up into the WR3 role this year.
AJ Dillon, RB, Green Bay Packers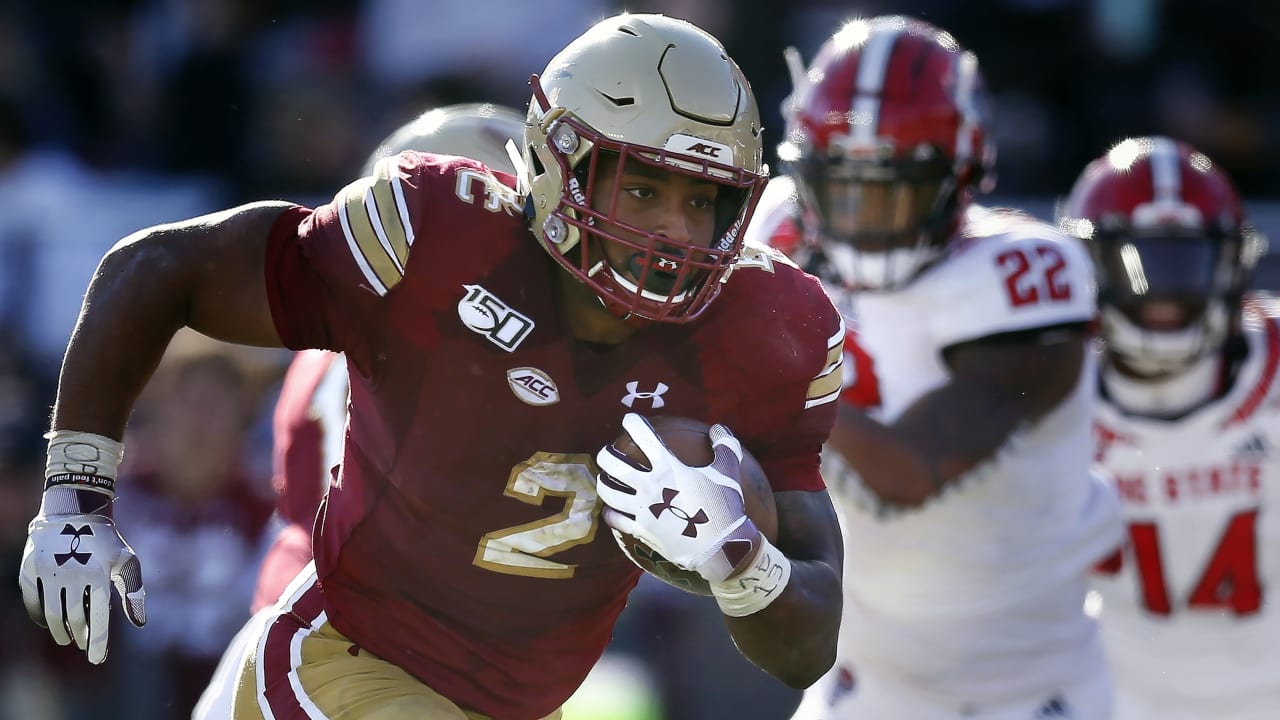 Michael Dwyer/AP
AJ Dillion is a 6'0, 247lb RB out of Boston College who has been extremely productive in his college career. As a freshman in 2017, Dillon carried the ball 300 times for 1,589 yards and 14 touchdowns. Insane numbers for any running back, especially for a freshman. In 2018, he appeared in only 10 games due to an ankle injury in late September. Regardless, Dillon accumulated 1,108 yards and 10 touchdowns on 227 carries. Rounding out his college career, Dillon had 318 carries for 1,685 yards and 14 touchdowns. The major knock on his career at BC was his ability in the passing game. In his freshman year, Dillon had zero catches. In 2018, he had 8 receptions. In 2019, he had 13 receptions. Gradually, he did show signs of having an impact with his hands.
In terms of becoming an immediate impact, I don't see it for 2020. Dillon is a long-term play. Teams are not tying themselves to RB's unless they are absolutely necessary. Aaron Jones is coming off a great year, but I believe that Green Bay is showing that they are not committed to him by using a 2nd round pick on Dillon. If Jones is let go after the season, Dillon is in a great spot to take over. He has shown that he is an absolute workhorse. Giving him a year to learn the offense and freshen up his legs will give him the best opportunity at success.
Darrynton Evans, RB, Tennessee Titans

Jim Dedmon-USA TODAY Sports
This is a guy that has me most excited, mainly because he is on my dynasty roster. Darrynton Evans landed in Tennessee that has a chance to get some legitimate playing time by taking 3rd down snaps away from Derrick Henry. Evans stepped up in his last two seasons at Appalachian State with a combined 433 carries for 2,667 yards and 25 touchdowns. Production in the rushing game, with his added ability in the passing game is what puts Evans in an ideal spot in taking a step towards being the head guy in Tennessee.
Derrick Henry is playing in 2020 off a franchise tag, and I don't see a long-term deal being put together. Although I really like Evans, I wouldn't be shocked to see the Titans let Henry go while either drafting or signing a guy to share snaps with Evans. If you are in a PPR league, Evans will be your guy. Especially in 12 or 14 team leagues, rostering guys likes Tarik Cohen and James White can be incredibly valuable. Evans can be a guy that isn't your week to week starter, but if an injury or bye comes to your week, he can put up enough points to be a suitable starter.
Honorable Mentions:
Adam Trautman, TE, New Orleans Saints
An aging Jared Cook sets up Trautman to carve himself out a role in Sean Payton's offense. Trautman won't see significant playing time immediately, which is why I wouldn't roster him on your team unless you have space for a flier. With the uncertainty at QB, I can't lean one way or another on how I feel about Trautman's situation.
Joshua Kelley, RB, Los Angeles Chargers
The departure of Melvin Gordon allowed Austin Ekeler to step into a larger role. He was able to handle the workload while putting up fantastic numbers. 2020 will show whether or not Ekeler will be Gordon's replacement for LAC. If not, Kelley has a chance to takeover duties late in 2020 or early 2021. Kelley is worth a roster spot, but depending on Ekeler and Justin Jackson's situations, I would not expect any impact in 2020.