The Draft/Pass series will be going over every positional group, and I may even dabble into IDP. The positional rankings I will be using is FantasyPros so there will be a consistency throughout this, even though I do not totally agree with them. My opinion on each player is my own, and I would love to hear why you agree or disagree. THIS IS ALSO FOR 1 QB LEAGUES, NOT SUPERFLEX.
Draft
Matthew Stafford, LA Rams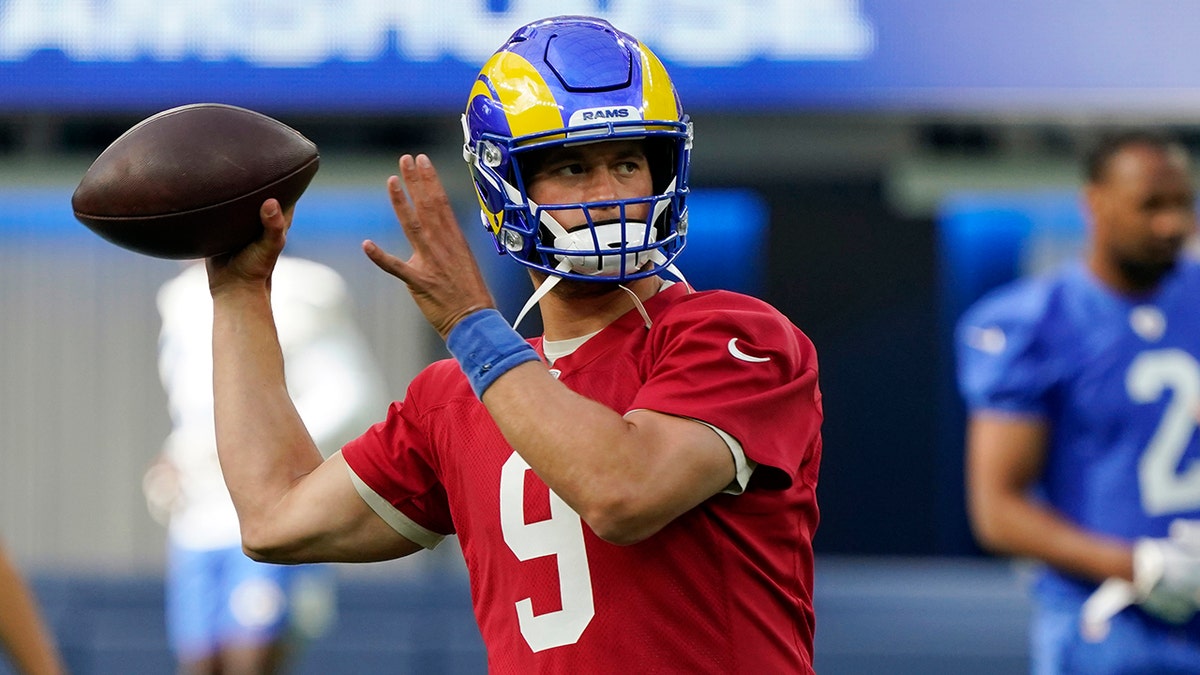 Former Detroit Lions superstar Matthew Stafford begins the 2021-22 campaign in sunny Los Angeles after being traded earlier this year. Stafford takes over an offense that has far more weapons than his Detroit teams have had the past decade, even with the unfortunate loss of Cam Akers. With Cooper Kupp, Robert Woods, Van Jefferson, and Tyler Higbee all returning, the Rams drafted receivers Tutu Atwell in the 2nd round, Jacob Harris in the 4th, and Ben Skowronek in the 7th. Darrell Henderson will serve as the lead back with Akers going down (news broke as I was writing this) and the involvement of Xavier Jones will be certainly needed.
Stafford enters in on FantasyPros at #12. This criminally underrates what Stafford is capable of. He was the #15 in fantasy points despite only playing 100% snaps in only 12 games. This was also with a WR group consisting of Marvin Jones Jr., Quintez Cephus, Danny Amendola, and Marvin Hall. My selection of Stafford being here may be due to my own hometown bias, but Stafford was the life of the Lions for a long time and we are all excited to see what he will be able to do in LA and what this Rams team has to offer. His ADP should be much higher than it is. I would consider him a top 5 candidate for the 2021 season.
Daniel Jones, NY Giants
This will come as a shock and I will either look like a genius or an idiot for this take, but the Giants have the weapons to be a scary offense next year. It all comes down to Daniel Jones taking care of the football. He's had 39 turnovers the past two years, but showed signs of improvement his sophomore season. Entering his third season, he now has Saquon Barkley returning at some point early in 2021 and a true WR1 in Kenny Golladay coming over from Detroit this offseason. The Giants drafted WR Kadarius Toney in the 1st round of the 2021 draft, but reports have come out stating that Toney will be a project WR and will make the biggest impact in the return game. His role as a receiver is not immediately pressing with Golladay, Shepard, Slayton, and TE Evan Engram being the target-men for Daniel Jones.
Daniel Jones comes in on FantasyPros as their #21 QB. In 14 games last season, he was ranked #24 on Sleeper, so a slight rise is not very controversial on FantasyPros, but I think Daniel Jones can crack the top 15 IF HE CAN TAKE CARE OF THE FOOTBALL. This strictly relies on Daniel Jones taking that step forward because I think this is his last chance to show that he deserved being the #6 overall draft pick and replacing Eli Manning. This is a make it or break it year for Daniel Jones, and I'm betting on him making it.
Trey Lance, SF 49ers
I'm going to say it, this situation reeks of Patrick Mahomes and KC when he was drafted. Cannon arm, viewed as a project, and had suitable weapons around him. With that said, I do not have Patrick Mahomes expectations. Trey Lance is coming from a good D-II program, but he has not played against D-I defenses. What Trey Lance has going for him though is Jimmy Garoppolo ahead of him on the depth chart, which will help him adjust to both the playbook and the speed of the NFL. The 49ers have two solid, young receivers in Deebo Samuel and Brandon Ayuik, along with one of the top TEs in the league with George Kittle. Trey Sermon and Elijah Mitchell were among the draft selections for San Francisco which will bolster the running back group that lost Jerrick McKinnon and Tevin Coleman. I would expect Sermon to take that RB1 spot sooner than Lance takes the QB1 spot, but having young talent that are progressing will help Lance become more comfortable in this offense.
Drafting Lance high is a gamble, because he could start Week 1 this season, or be held out until Week 1 next season. I think that he will find a middle ground there, with the likelihood of him getting a chance sooner rather than later if Jimmy G continues to regress. Trey Lance instantly makes this offense more polarizing, boosting the value of all receivers and Kittle. Lance's ability to push the ball down field and throw sideline to sideline with zip on the ball makes Ayuik a target for fantasy owners as well. Trey Lance is not going to be a starter for your teams immediately, but he will be your starter heading into the playoffs and for years beyond.
Pass
Kyler Murray, Arizona Cardinals
Kliff Kingsbury will not take Arizona to the next level. This has more to do with Coach Kingsbury than it has to do with Kyler Murray. I think Murray is a great QB and has shown that he is deserving of being a top QB drafted. However, I will not be biting at his current ADP. Arizona did no improve their running game, their offensive line consists of almost all new guys, and it seems as if it is only bringing in guys on their last leg i.e. James Conner, AJ Green, JJ Watt, and Rodney Hudson.
Kyler Murray was the #1 QB on Sleeper last season and comes in at #3 on FantasyPros this season. He has a top receiver in DeAndre Hopkins, but after that, I'm not a fan of this offense. If Kyler has to continue to run for his life, Arizona will be on a downward spiral. I do not like the lack of usage at their TE position. I hate their rushing game. Outside of Hopkins, Kyler has no true weapons. If Kyler slips and 5 QBs are taken before him, I would consider. Taking him after Mahomes and Allen is a risk that I am staying away from.
Trevor Lawrence, Jacksonville Jaguars
The first pick of the 2021 NFL Draft has been compared to the likes of Andrew Luck and Peyton Manning. The talent is there, but Lawrence is missing what Luck and Manning had. In his rookie year, Luck had Reggie Wayne and rookie TY Hilton as targets. Peyton, although he had a terrible rookie year, had Marvin Harrison and Marshall Faulk. Jacksonville does not have any weapons that are comparable to what Luck and Manning had. Lawrence is going to be a great QB, but I would hold off in 2021 because I do not think Urban Meyer will last long as the head coach in Jacksonville.
Like I said, the talent is there. I just hate the situation, which is similar to Kyler Murray. Trevor Lawrence will be a great QB in this league, but I don't believe that he will have the fantasy relevance this season for him to be one of the top players in his position to be taken. Do not rely on him to be your starter, but look for him as a backup because of his possible upside.
Jalen Hurts, Philadelphia Eagles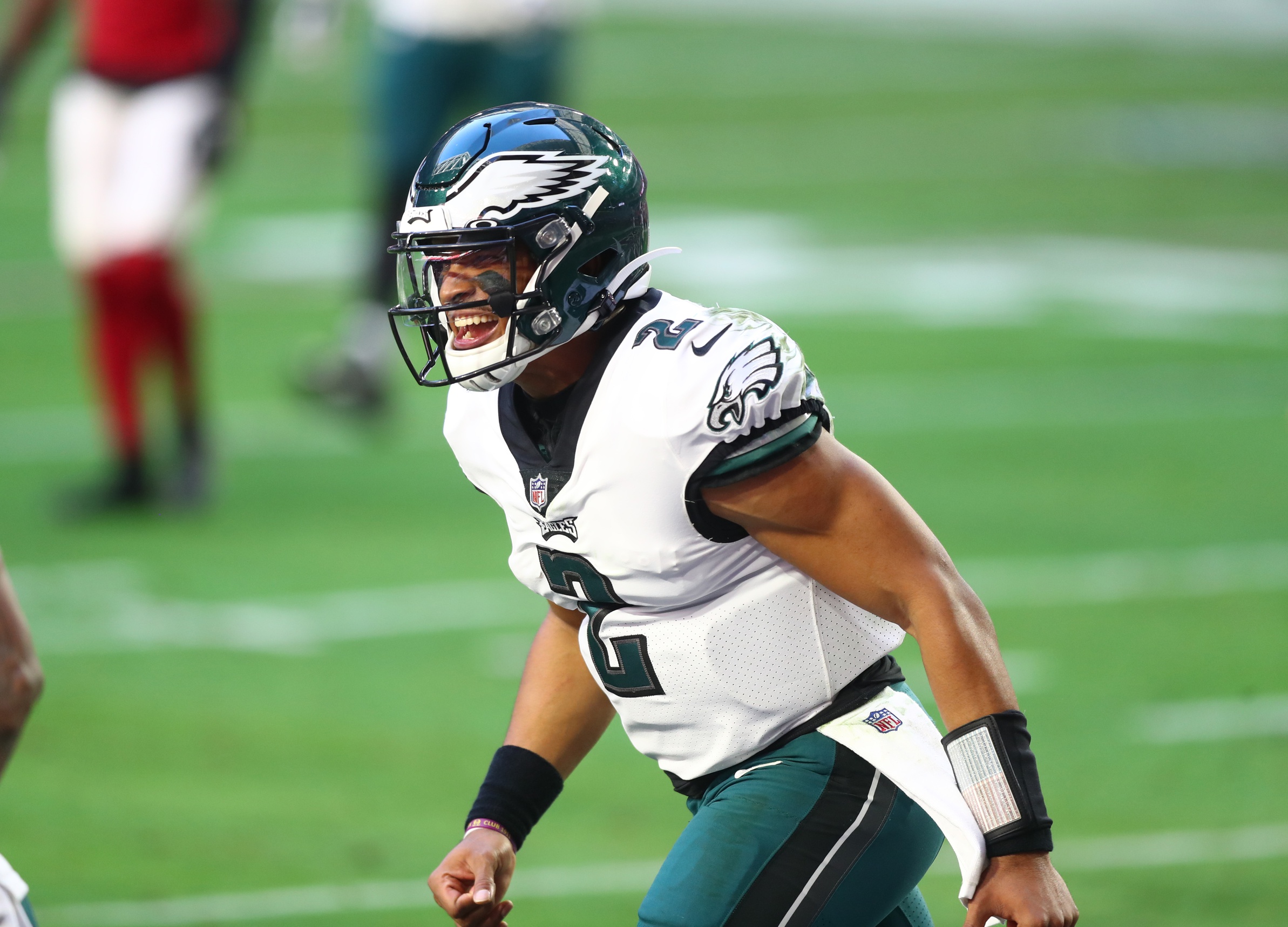 Jalen Hurts is at the helm of the Eagles after Carson Wentz's departure to Indy. A major problem with the Eagles is that they have been missing a star receiver to help out Wentz and now Hurts. The addition of Jalen Raegor last season has been an improvement, but he is not the alpha that will bolster their offense. Drafting DeVonta Smith, however, will. The 2021 Heisman Trophy winner will be a great weapon for his former and current QB.
The issue at hand is that Hurts is currently QB11 on FantasyPros. Braking into QB1 territory for a guy with a new coach, new weapons, but most importantly, rumors swirling around Deshaun Watson. Drafting Hurts at his current ADP is an incredible risk considering that Watson is not off the table. Further, it seems as if negotiations have occurred between the Texans and Eagles, which shows that Hurts may not be Nick Sirianni's guy. I would recommend fading Hurts this season, until it is determined that he will be the franchise guy in Philly for the years to come.