After an incredibly disappointing 2019 season, the Lions find themselves drafting 3rd overall in this years draft. With there being three "elite" prospects in Burrow, Young, and Tagovailoa, the Lions could possibly be sitting on a gold-mine with teams looking to move up for Tua. Teams that are being expected to purse the Lions' pick are the Dolpins, Chargers, Panthers, and Raiders. In this mock, the Lions will be accepting a trade with the Dolphins.
TRADE: DET sends 1.03 to MIA for MIA 1.05, 1.26 (via HOU), and 3.07
1.05 (via MIA) – Jeffery Okudah, CB, Ohio State
Joe Maiorana-USA TODAY Sports
Jeffrey Okudah has the skill-set either take over duties at CB1 for the Lions if Slay is moved, or form one of the most dangerous trios in football with Slay/Okudah/Coleman. Okudah has been compared to Marshon Lattimore, both OSU alumni, and if the Lions can grab someone of Lattimore's caliber, that is well worth a top-5 pick. With the Lions playing the most man coverage in the NFL, getting the best man-to-man corner is a no-brainer. Okudah showcases his ability to mirror routes with his insane statistics, coming from PFF. He has only allowed six 15+ yard completions over 400 snaps. While on the boundary, Okudah has only allowed first downs on 20% of his 93 targets since 2018.
1.26 (via MIA) – Ross Blacklock, DT, TCU
Julie Toles, TCU Athletics
Blacklock is a 6'4, 305lb monster. He is able to use his strength to power through gaps and get after opposing QB's. The Lions struggles to apply pressure on passers last season was evident. With the departures of Damon 'Snacks' Harrison and possibly A'Shawn Robinson, the Lions will need to fill a massive hole on the defensive line. Using the draft capital gained from trading out of the 3rd overall pick allows the Lions to get a high end talent.
2.35 – Julian Okwara, EDGE, Notre Dame
Rick Kimball/ISD
With the third pick for the Lions, we are going to bolster the defense again with a pass rushing specialist. Julian Okwara is has the speed and bend to get around the edge and produce sacks. Experts suggest that he would be best used in a 3-4 front with flexibility, which would be a perfect fit for the Lions. I would like to get an instant starter this early in the second round, but plugging in an edge rusher day one is not that common. Rotating Okwara into the game on passing downs would allow him to shine best in 2020, while he develops into a true three down defender improving his run defense.
3.67 – Ben Bartch, OT, St. John's
AJ Shulte/Pro Football Network
D-III athlete in the third round? Bartch is more than capable playing at the next level. He was able to elevate his draft stock with his outstanding performance at the Senior Bowl, which Matt Patricia witnessed first-hand. Although he was on the South team, it was evident that Bartch held his own against some of the premier pass-rushers entering this year's draft. Bartch is not going to be a plug and play OT off the rip, but he can develop into a solid tackle for the Lions if Decker/Crosby do not take a positive step in 2020.
3.70 – Denzel Mims, WR, Baylor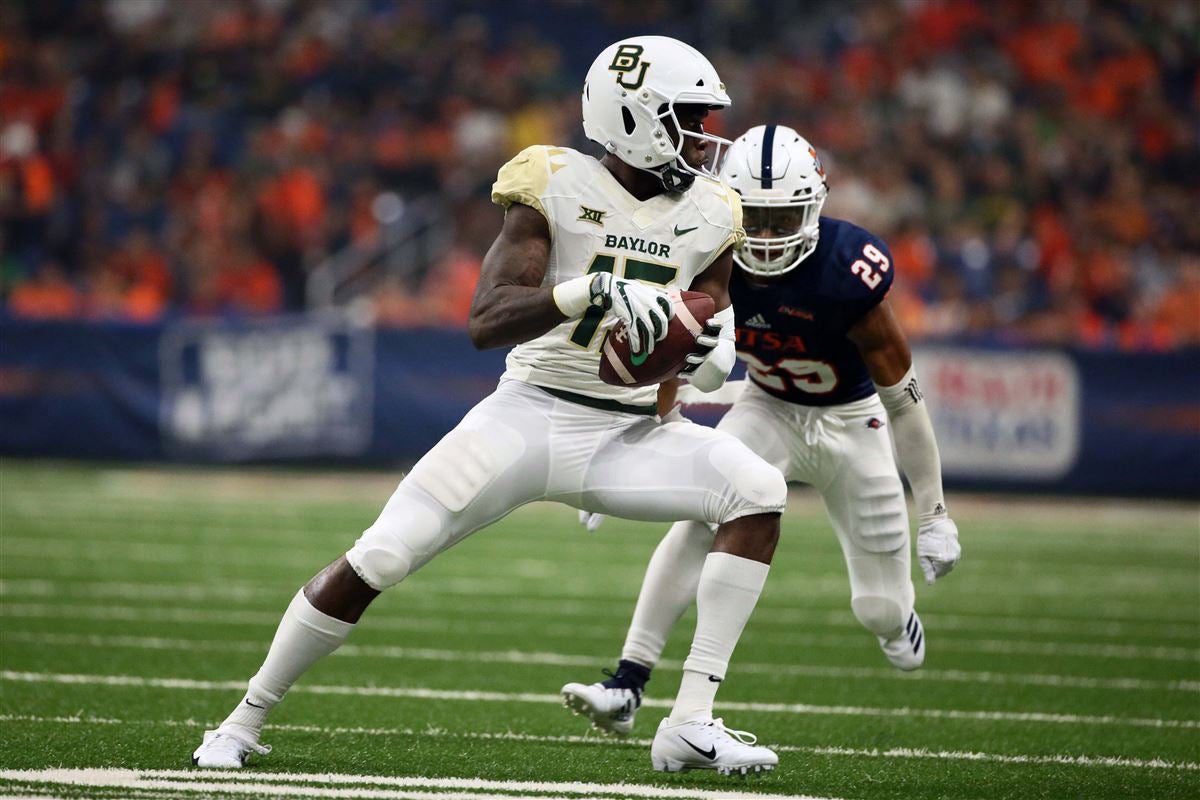 Soobum Im-USA TODAY Sports, USA TODAY Sports)
The first of my two receivers the Lions taking is an excellent talent, who if were in year's prior drafts, would likely be a late first/early second prospect. Denzel Mims can be a QB's best friend with his ability to catch nearly every ball you throw his way. An aging Marvin Jones and Danny Amendola leaves question marks on the future of the receiving group for Matt Stafford, but giving him Mims will provide a future WR2 who can fill Jones' role.
4.99 – Shane Lemieux, IOL, Oregon
Andrew Doughty, Oregon Athletics
Since the departure of TJ Lang, the Lions offensive line has not been up to par with where it needs to be to make a step at being a serious contender. Lemieux is at the worst, a depth piece. He can contribute best in a power run scheme, which is great for Kerryon and Bo. Just as there are question marks at RT, there are also concerns with both of the guard spots. Shane has great power and shows it off on film. He has a place in the NFL as a future starter.
5.131 – David Woodward, LB, Utah State
Wade Denniston, USU Athletic Media Relations
This has potential to be an awesome pick or a wasted pick with Woodward's injury history. He suffered a vertebrae fracture and several concussions in college, which will raise concerns for NFL GM's. However, his upside is worth the risk. If taken, the Lions can sit on Woodward, allow his body to full heal for another year, and then plug him into the MIKE spot after they get rid of the disappointment that is Jarad Davis. Scouts recommend providing him with a solid interior line that will prevent blockers reaching him, which I do not believe will be a problem given that the Lions should grab some DT's in free agency, along with drafting Blacklock.
5.154 – Antoine Brooks, S, Maryland
Maryland Football
Trading Quandre Diggs mid-2019 season showed serious concerns over who is going to take his place, but also showed how much the front office believes in Tracy Walker and Will Harris. Adding depth here in the fifth round with Brooks gives the Lions a safety that has incredible tackling ability with the added trait of being able to be a solid nickel defender.
6.162 – Anthony Gordon, QB, Washington State
Vasha Hunt-USA TODAY Sports
One can dream that Gordon falls this far. The thing about Gordon is that he will be lumped in as a system QB, similar to how Minshew was last season. Last year, I mocked Minshew to the Lions. I enjoyed Minshew's personality and game. What I see in Gordon is a guy that can exploit defenses WHEN he is on fire. Being a one year starter, he still needs time to acclimate himself to the speed of the game, especially moving from the PAC-12 to the NFL. However, I believe he will be able to come in and be a better back-up to Stafford than those who have been the last few years.