It would have been easier to rank each defensive group individually, however, I'm on a time crunch so I figured I would just group them all together and as the season progresses, I will separate each position. It's not fair nor possible to compare a safety to an edge rusher because they're different. I decided to put this list together based on talent and how much impact I think each player has on a game. Enjoy!
Honorable Mention: Xavier Thomas, DE, Clemson; Joe Bachie, LB, Michigan State; Raekwon Davis, DE, Alabama; Alohi Gilman, S, Notre Dame
10. Dylan Moses, LB, Alabama
via rolltide.com
Dylan Moses is the player to watch on this Alabama defense. Formerly a 5-star recruit, Moses will be playing as an interior linebacker for this Alabama group. Alabama has been notorious for having a very good linebacker group, specifically in the middle of the field. This will be Moses' first season being the sole contributor at the Mike, so expect to hear his name quite often while watching the Tide in the fall.
9. Paddy Fisher, LB, Northwestern
via Northwestern Athletics
Paddy Fisher is the best run-stopping linebacker in college. His ability to fill the gap and make a tackle is fun to watch. I would like to see Fisher to be higher on this list, but I want to see Fisher show off some pass rushing ability. If he can develop a knack for rushing the QB, then expect Fisher to fly up NFL big boards.
8. Yetur Gross-Matos, DE, Penn State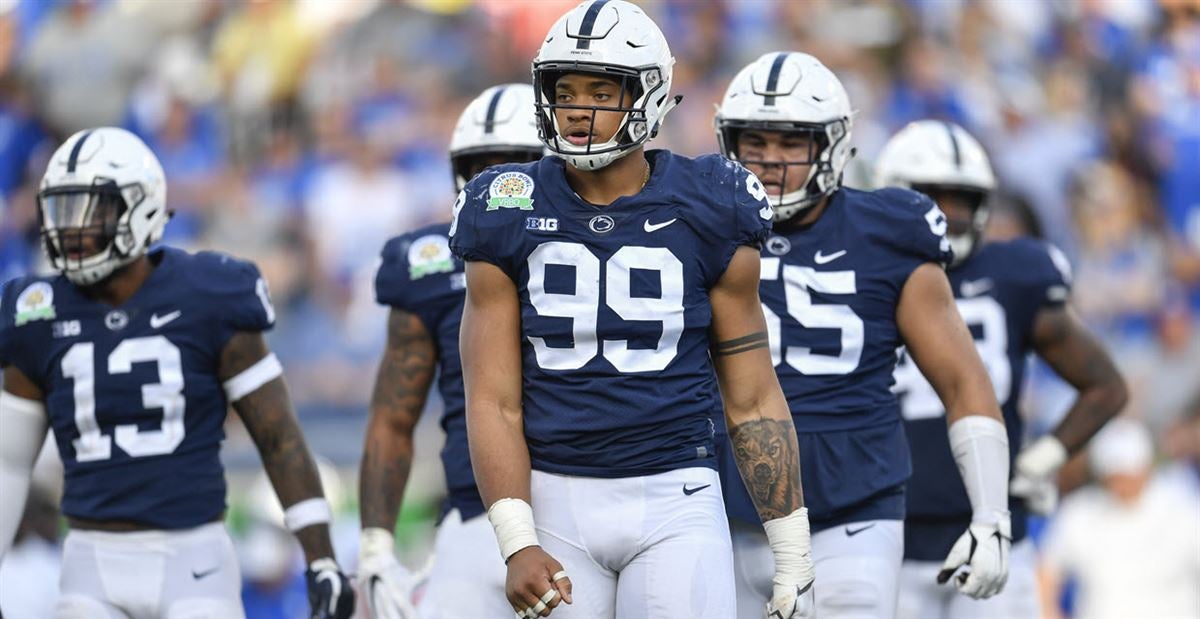 via 24/7 Sports
Gross-Matos took the 2018 season by storm by racking up 8 sacks with 20 tackles for loss. He's the type of player that coaches game-plan against, but no matter what you do, he will make the play. If you run inside of him, he's hitting you in the mouth. If you run outside of him, he's chasing you down and grabbing you for a loss. Stay in the pocket to long? Sack. The DE's in the Big 10 are absolutely incredible, because four of the ten players on this list are DE's in the Big 10.
7. Bryce Hall, CB, Virginia
via Virginia Sports
Bryce Hall terrorized receivers in 2018, leading the nation in pass breakups and passes defended. Hall allowed on 34 completions in 13 games. He is the definition of a no fly zone. Now entering his senior year, this Virginia defense has the ability to really make some noise with Hall leading the helm. If Hall continues his play, look for him being the number one corner entering the 2020 NFL draft.
6. Derrick Brown, DT, Aurburn
via  Todd Van Emst/ Auburn Athletics
SEC coaches were not happy to here that Derrick Brown was returning to Auburn for his senior season. Why? Because he was already projected to be a first rounder in the 2019 NFL draft, but he is returning to the 2019 season after being selected to the all-SEC team. Brown is looking to show scouts his ability to rush the passer, after accumulating 4.5 sacks last season. I'm excited to see how Brown attacks QB Justin Herbert week 1 when Oregon comes down to meet Auburn.
5. Kenny Willekes, DE, Michigan State
via Michigan State Athletics
Kenny Willekes will be coming off a leg injury that occurred at the end of last season, but he is expected to be at full strength. Over the last two years, Willekes has 15.5 sacks and 35 tackles for loss. The dynamic between Willekes and Bachie is one that is to be feared by opposing offenses. The problem lies to MSU's offense, which is hoping to have a bounce back season.
4. Isaiah Simmons, LB/S, Clemson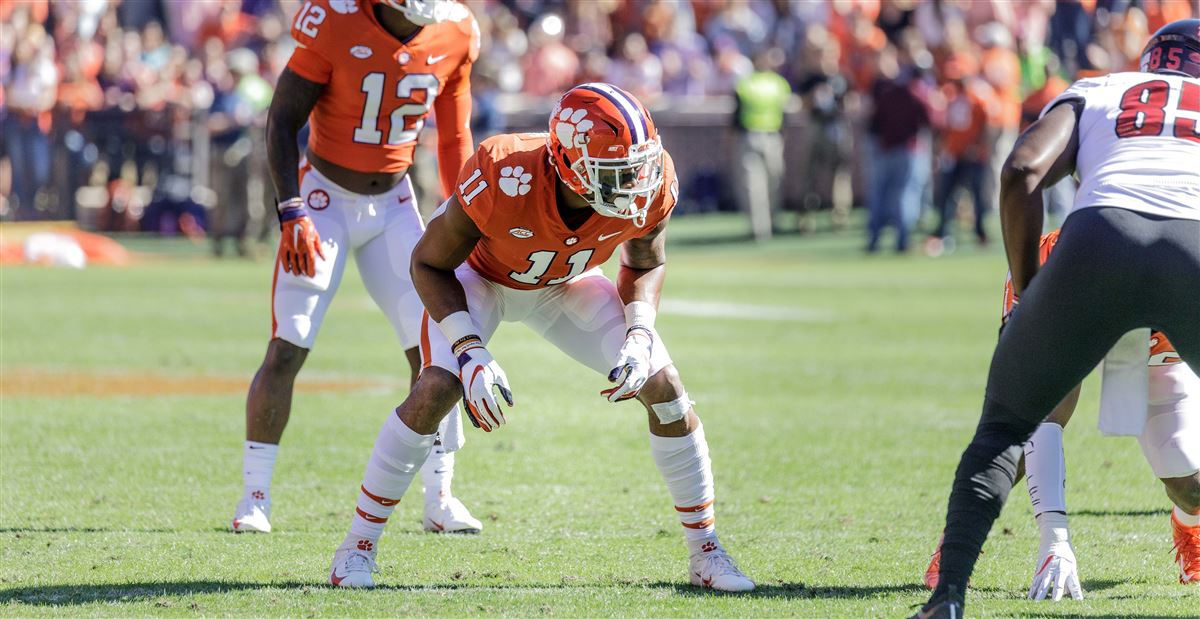 via 24/7 Sports
The safety/linebacker hybrid, Isaiah Simmons, is now the leader of the Clemson defense. After losing nearly their entire defensive line, Simmons is expected to pick up some of the lost pieces. Entering his junior season, Simmons was the tackle leader last year for Clemson with 97 total tackles. With that, 9 of them were for a loss. Simmons had one interception, which he ran back for a touchdown. He was listed as a safety last season, but I'm expecting him to put some weight on and become a powerhouse linebacker.
3. A.J. Epenesa, DE, Iowa
via Hawkeye Sports
The story line this season will be Epenesa vs Young. Unfortunately, we will not see the two play. What we will see is Epenesa play Gross-Matos, which is another of the four Big 10 DE's. Regardless, an argument can be made to have Epenesa at the top of this list. He is already projected by some to be the number one selected Edge to be taken in 2020, and is drawing comparisons to the Bosa brothers. In 2018, Epenesa totaled 37 tackles with 16.5 of them being for loss and 10.5 of them being sacks. Look for another big season from Epenesa as he makes a push towards the 2020 NFL Draft.
2. Chase Young, DE, Ohio State
via USA Today
Rounding out the Edge rushers is Chase Young, the predecessor to the Bosa brothers reign of OSU anchors. It's a tough task to replace such talent, but Chase Young is looking to be even better than the Bosa's were. His stats are comparable to Epenesa, 33 tackles (14.5 being for loss) and 9.5 sacks. I'm predicting Young to have a better season than Epenesa this year, and with OSU having a tougher schedule, I think he will be entering the 2020 draft as the premiere Edge rusher.
1. Grant Delpit, S, LSU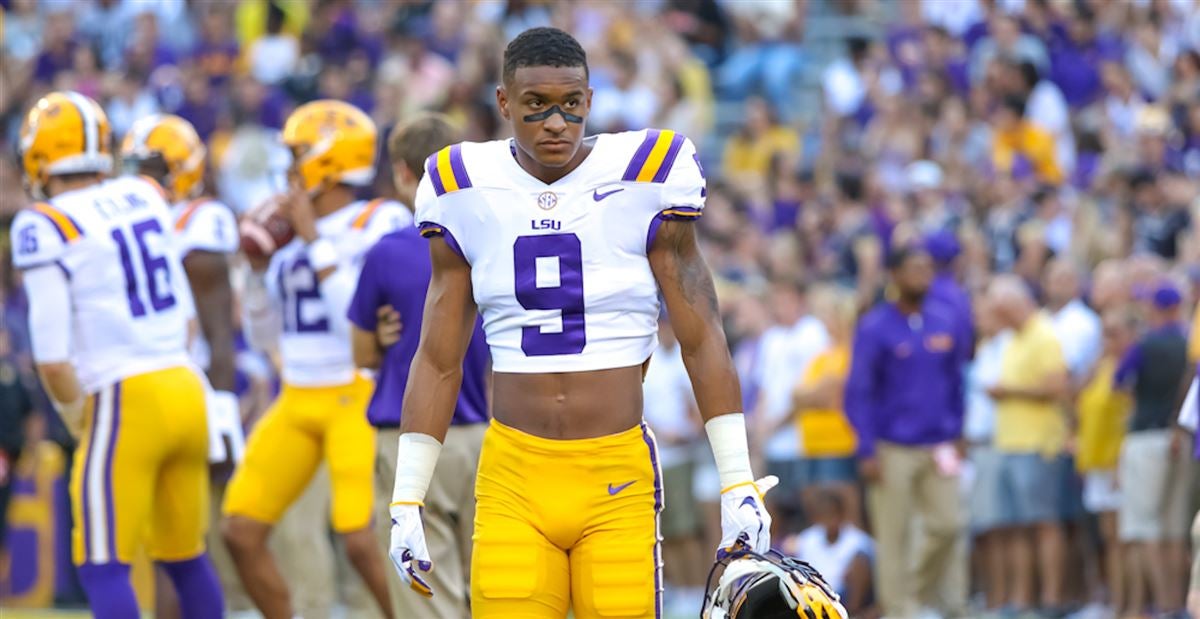 via 24/7 Sports
Just to establish credibility, in 2016, I had Jamal Adams as the top player in college. In 2017, I had Derwin James as the top defensive player in college. In 2018, I had Quinnen Williams, who although is unproven in the NFL, I'm still holding a great track record. Grant Delpit is set to have a HISTORIC season. Last year, Delpit had 74 tackles, 9 being for a loss, 5 were sacks, and he had 5 interceptions. Incredible numbers, and I truly believe he is going to do so much more. I'm hoping LSU pulls their offense together because with Delpit being the best defensive player in college, they have a chance to pull off a run for the title. I expect the other nine here on this list to move up and down, but Grant Delpit is most likely going to sit at the top spot all year.