We all know of Joe Burrow, Tua Tagovailoa, and Justin Herbert. Those three are almost solidified to go in the Top 10. Then you have Jordan Love, Jake Fromm, Jacob Eason, and Jalen Hurts. However, Anthony Gordon deserves some recognition because he could be a diamond in the rough.
Anthony Gordon, Washington State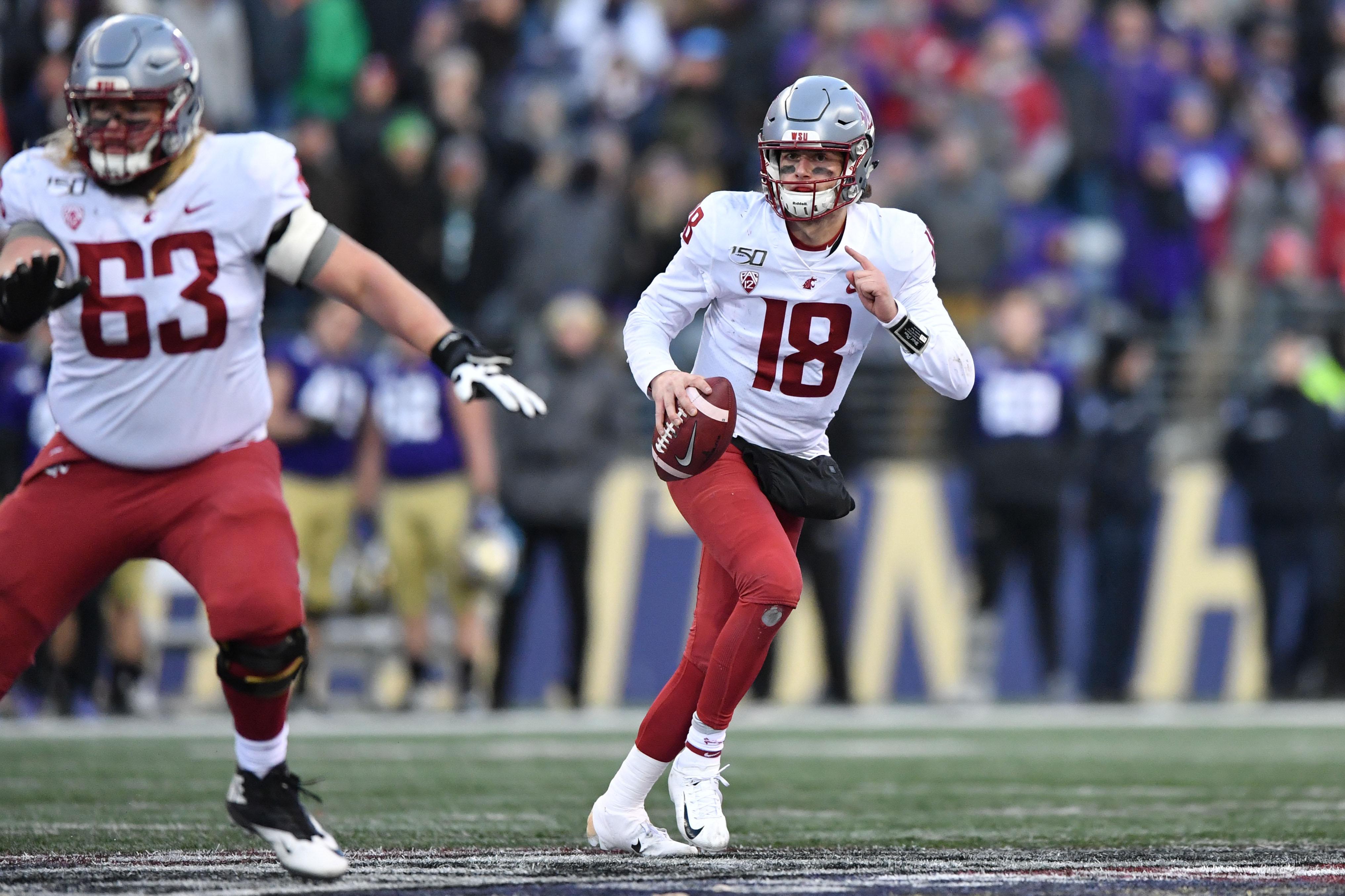 Tyler Tjomsland / The Spokesman-Review
2019 stats: 493/689, 5579 yards, 48 TDs, 16 INT
Projected round: 5th-6th
Washington State is known around the college football world for their aggresive, Air-Raid attack on offense. The Cougars throw the ball more than 75% of their offensive snaps. With that, Gordon is going to be the third straight QB Mike Leach is sending to the NFL (Luke Falk & Gardner Minshew). Between the three, Gordon has put up more impressive stats in his one starting season. However, Washington State ended the 2019 season at 6-7, which is disappointing when compared to the 2018, Minshew led, 11-2 Cougars.
Breakdown:
We'll look at the things I like first. Lots of Gordon's passes are bubble/screens, swings, snags, or slants. However, he has the ability to take the top off a defense with his deep ball:
Another thing that I like is Gordon's playmaking mentality. He is comfortable outside of the pocket, while also having the mobility to pick up first downs if needed:
I specifically wanted to go through a drive that Gordon showed excellence. #11 Oregon (6-1) were hosting Anthony Gordon and Washington State. On the road, Gordon was given the ball on his own 10 yard line, 3 minutes to go, down 6 points. Here are the key plays from that phenomenal, 90 yard drive to put them ahead.
2nd and 5 from own 15, 2:45 left-
1st and 10 from own 40, 2:14 left-
4th and 3 from Oregon 5, 1:03 left-
There must be something about Gordon's game that drops his stock down to a Day 2-3 pick. One reason is the interceptions. He shows some carelessness with the ball, throwing in extremely tight windows that can be crucial:
SUMMARY:
Anthony Gordon is an exciting QB that will be a developmental project for an NFL head coach. He is thrown into the "Air-Raid" system QB category, but he shows some real gunslinger traits about him that will catch a GM's eye. I would not be surprised to see him be lumped in with Eason and Fromm as a potential 3rd or 4th round pick come draft day. I also would not be surprised to see him drop to the late 6th round, in which I think a team will be getting a steal. Granted, Gordon will need to be coached up on many things before he is ready to take quality snaps in the NFL. His footwork is inconsistent, he seems to get tunnel vision on a receiver which allows the defender to make a play, and he makes pretty reckless decisions. With that said, Gordon is a baller. He is not afraid to step up in the pocket and make a big throw. He has the ability to also escape the pocket, shown above. One of my favorite things about him is not getting down about an interception. Gordon will continue slinging the ball until the clock hits 0:00.